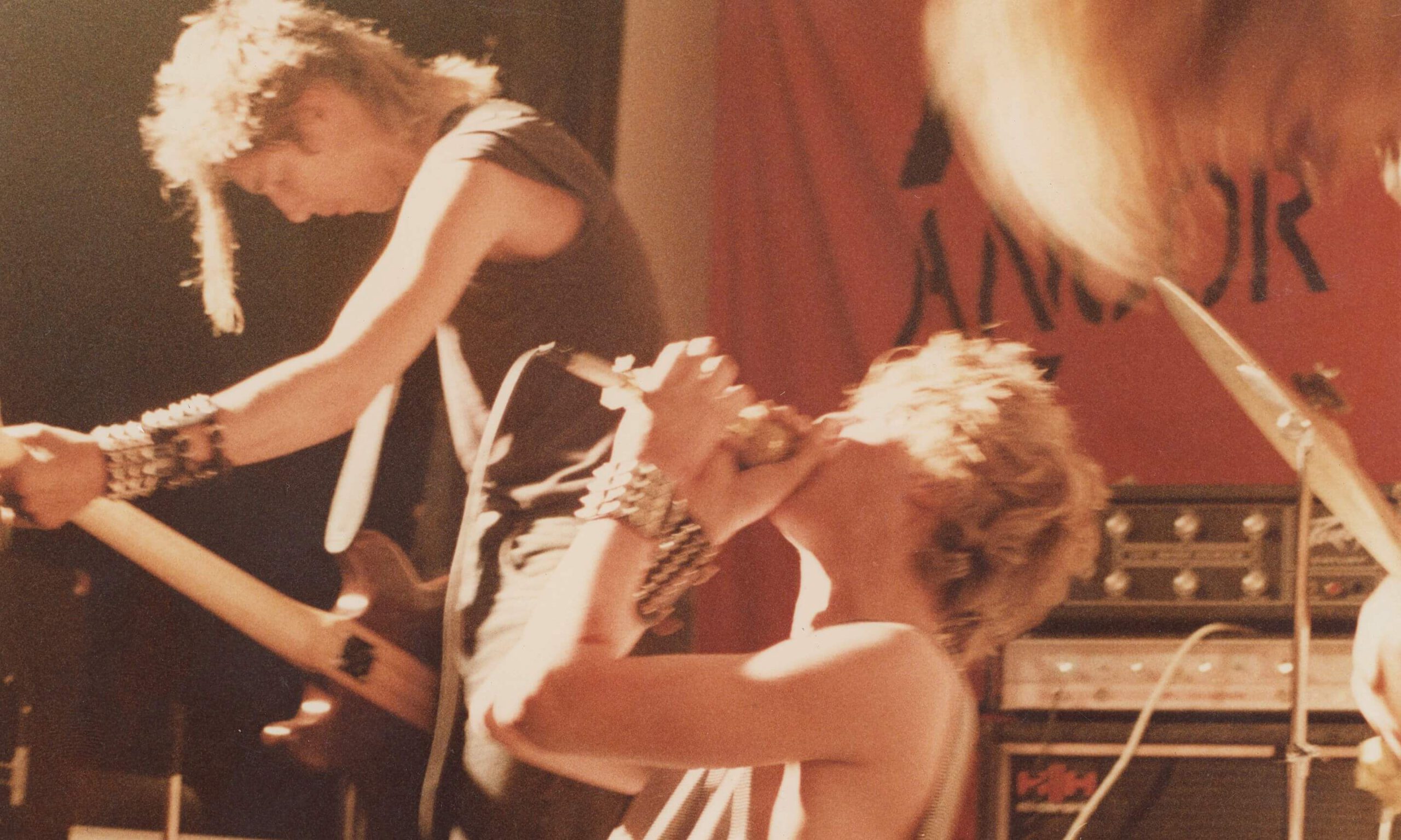 Bannlyst band history
BANNLYST came from Molde, Norway. They started in the autumn of 1982. The members:
– Finn Erik (vocals)
– Børre (guitar)
– Per Arne (bass)
– Thomas (drums), replaced Geir (original drummer) in the Winter of 1983
BANNLYST members had previously played or were still playing in the following other bands: NEVROSE, FORBUDT UNGDOM (Finn Erik), STYGGE FØT (Per Arne and Geir), BRENT JORD (Per Arne), SKABB (Børre), and PSYKISK TERROR (Thomas). BANNLYST played their first gig in Molde, soon after their first (of many) in Trondheim. 
The band released their first demo tape in 1983, followed by the split tape with ANGOR WAT from Trondheim in 1984. BANNLYST's vinyl debut, the "La dem ikke lure deg" 7″ EP was recorded and released in 1985 by the Oslo-based X-Port Plater label, which was run by Gunnar of SVART FRAMTID.
There were plans by Tim of Children of the Revolution (C.O.R.) to release the split tape on vinyl. Similar to the vinyl release of the NEGAZIONE/DECLINO split tape. But while ANGOR WAT wanted to do it, BANNLYST were against the plan because members felt that using the same songs twice was too commercial.
In 1985, BANNLYST went on tour by train (using the Interrail pass). They had some gigs lined up in the UK and on the way played a spontaneous gig at Korn in Hannover in Germany together with locals ALTE KAMERADEN. 
In the UK, gigs were in Bristol, Gateshead, Coventry, and Warminster. A live recording exists of the gig at "The Station" in Gateshead, which is close to Newcastle.
BANNLYST disbanded in 1985 when members gradually moved from Molde to Oslo. Thomas started to play drums in KAFKA PROSESS and STENGTE DØRER. The other three started SO MUCH HATE in the summer of 1986 together with singer Gunnar (ex KAFKA PROSESS, SVART FRAMTID). Finn Erik went back to playing drums, as he had done in FORBUDT UNGDOM. 
BANNLYST played several reunion gigs, for example, at the 10th anniversary gig of the Blitz squat in Oslo in 1992 where their live LP was recorded.
During the extensive tours of SO MUCH HATE in the 1990s, the band would sometimes play encores of BANNLYST songs with Finn Erik drumming and singing simultaneously. Here's a SO MUCH HATE video on YouTube and the BANNLYST songs start at 47:56 min.
BANNLYST releases
BANNLYST: Demo Tape 1983
Songs: Soldat, Believe, Tynn Tråd, Louie Louie, Life & Death, Alternative Jobbing, Ingen Framtid, Kjemp Du!, Ingen Forstår, Bak Låste dorer, Spillets Regla, Krav, Borstal Breakout, State Control, Menneske Maskin, Tredje Verden, System, Tynn Tråd, Louie Louie
ANGOR WAT/BANNLYST: Split Tape C-60
Songs: Maktspill, Medalje Eller Dom, Der Det Finnes Makt, Systemets Redskap, Starving By Greed, Krav, Livets Gang, Liv Og Død, Warning: The Final Day, Den Siste Kamp, Vår Kamp, Refuse, Det Var Engang Et Menneske, Soldat, Omega
(Knalltapes/Knallsyndikatet KT 03/KS 008, 1984) comes with English or Norwegian cover
BANNLYST  La Dem Ikke Lure Deg 7" EP
Songs: Det Begynner Å Bli Sent, Farvel Moder Jord, Systemets Redskap, Herrene, 40 000 Døde Barn, Gråt, Der Det Finnes Makt
(X-Port Plater X-002, 1985) comes with poster cover, some with English translated lyrics
Diskografi LP
Songs from split tape, X-Port Plater EP and compilation tracks
(Norwegian Leather, Isaksen 0:2, 2011) 
Live At Blitz LP
Complete soundboard recordings of the 10 years anniversary gig at Blitz, April 30, 1992. 
Songs: Livets Gang, Systemets Redskap, Medalje Eller Dom, Krav, Farvel Moder Jord, Der Det Finnes Makt, Liv Og Død, Det Begynner Å Bli Sent, Den Siste Kamp, Herrene, 40 000 Døde Barn (version cuts off), Refuse, Gråt, Det Var Engang Et Menneske, Hvit Natt
(Norwegian Leather, Isaksen 0:3, 2011) 
Mørk Tid 7" EP
Songs: Bare En Slave, Mørk Tid (both from 1985), Terrorstyre (1985, from Nå Eller Aldri comp, remastered), 40000 Døde Barn (live, 1992), complete song, old version on Blitz Live LP cuts off because the tape was flipped
(Norwegian Leather/Cease Fire!, Isaksen 0:4/Truceend 002, 2023)
Compilation  tracks:
V/A: Raped Ass 2
Ingen Framtid, Liv Og Død, Spillets Regler
(Ägg Tapes, Ägg-003)
V/A: Symphonies For The Disaffected: The "Station"
Live  compilation recorded  at The Station in Gateshead on July 5, 1985 during the band's UK tour (Beerbelly Tapes, 001)
V/A: Then the Molde Punx Go Marching Out
Songs on original tape: Liv & Død, Kjemp Du!, Ukjent Grav, Ingen Framtid, Spillets Regler, Bak Låste Dører, Krav, Blow Up
(Anathema, 01, 1983. Re-released on Cease Fire! as a double LP, 2020)
Songs on double LP re-release: Bak Låste Dører, Ingen Framtid, Kjemp Du!, Krav, Liv & Død, Spillets Regla, Ukjentes Grav
V/A Lärmattacke – Blasts From The Past LP
Song: Believe
(Lärmattacke Records, LA-006, 2020) 
V/A: Punk Belong To The Punks
Songs: Ingen Framtid, Alternativ Jobbing
(Den Onde Sirkel, DOS 8403t, 1984) 
V/A: Noize Of Norway
Songs: Medaljen Eller Dom, Det Var En Gang Et Menneske, Louie Louie
(Den Onde sirkel, DOS 8504t, 1985)
V/A: Ja Vi Elsker Tape
Songs: Omega, Vår Kamp
(Snack Ohm Tapes, SOT 001, 1984/2001)
V/A: Nå Eller Aldri Samle-EP 7"
Song: Terrorstyre
(X-Port Plater, X-003, 1985)
V/A: Knall-The Album tape
Song: Medalje Eller Dom
(Knallsyndikatet, KS 024, 1987)
V/A: Ox-Faces The Facts compilation EP 7"
Song: Livets Gang, live at Blitz 1992
(Oxvp-08)
V/A: Blitz-10 År På Pur Faen/Blitz Live Hits V CD
Songs: Herrene, Systemets Redskap, Hvit Natt
(Progress Records, Pro 010, 1993)